Worlds 2023: T1 runs over Weibo Gaming and is champion once again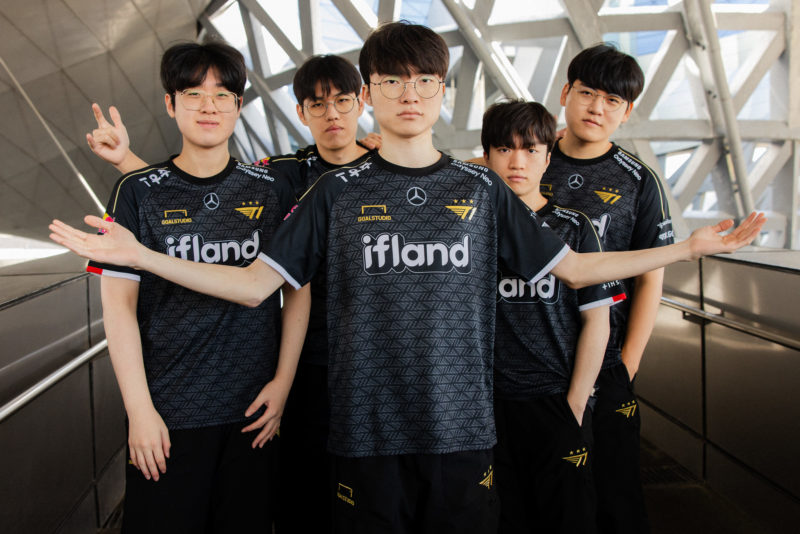 A T1 ran over the Weibo Gaming na final do Worlds 2023 and became four-time champion of the LoL World Cup! It is the organization that has won the most tournaments and no other comes even close to the South Koreans.
To reach the title, the team needed to beat all LPL teams in the tournament, a feat that kept T1 without ever losing World Cup playoffs to Chinese teams in the history of the competition.
Next, watch the T1 press conference, or, if you prefer, continue to read the entire summary and repercussion of the title.
Resumo: T1 3 x 0 Weibo Gaming
The first match of the series even had some dispute, with an incredible performance from Oner against the champion Lee Sin. In addition to him, Zeus, from Yone, also played his role, even with a bad start.
In the second game, an absolute smash. Weibo Gaming didn't even show up to play and ended the match with just one kill. Once again, Oner and Zeus were the highlights of the South Korean team.
In the end, the third match, also had a bit of a dispute, but had the same result. Once again from Lee Sin, Oner ended the game and defined the T1 title at Worlds 2023 against Weibo.
Moment in which Faker lifts his fourth LoL World Cup trophy
Faker, who was already considered the best player in LoL history, took another step to be even further away from second place.
The player won his fourth world title and remains the most successful in history! Watch the moment Faker lifts the Worlds trophy:
THE GREATEST OF ALL TIME. pic.twitter.com/ASlhnzmCFW

— LoL Esports (@lolesports) November 19, 2023
T1 players have already chosen the skin for the LoL World Cup
Historically, players who win the LoL World Cup can choose a themed skin, popularly called the World Cup skin. During the press conference, T1 players already revealed which champions they should choose to win this Worlds skin:
Zeus – Yone ou Jayce
Oner – Lee Sin
Faker – Don't know yet
Gumayusi – Jinx
Keria – Bardo or Renata Glasc
Worlds 2023 becomes the most watched Esports event in history!
Worlds 2023 has become the most watched esports event in history. The final between T1 and Weibo reached an impressive peak of more than 6.4 million viewers. This number surpassed the previous record held by Free Fire World Cup 2021which had a peak of 5.4 million of spectators.
These were not the first records in this edition of the LoL World Cup. The semi-final between T1 and JDG was the most watched in history, while the quarter-final between T1 and LNG was also the most watched in history.
Community reacts to Faker winning his fourth title
Below, see the community's reaction to T1's victory and Faker's fourth Worlds title:
T1 WINS WORLDS AND FAKER FINALLY GETS HIS FOURTH

BEAUTIFULLY CAST BY @Atlustv @AzaelOfficial @ChroniclerCasts pic.twitter.com/cpYjn5r6uP

— Eefje Depoortere (@sjokz) November 19, 2023
The youngest mid laner and the oldest player to ever win the world championship.

On his ten-year anniversary as a professional player, Lee "Faker" Sang-hyeok wins his fourth world title, the most out of any individual. pic.twitter.com/NogXiVa251

— Kevin Kim (@KevinKim0_0) November 19, 2023
FAKER BECAME WORLD CHAMPION AGAIN pic.twitter.com/uTaoCurFGR

— Markin (@kennzy) November 19, 2023
Faker not only conquers Tetra but for me emphasizes one thing that he will always be:

Insurmountable

It's impossible for anyone to do what this guy did and does in LoL

— Dudu etsblade (@etsblade) November 19, 2023
Simply Faker. Badass.

— caze (@Casimiro) November 19, 2023
In 2021 I sangiiiiiiiii

MY GOD

EM MAIOOOOOO https://t.co/D0lXWDUcf9

— lckfanx2 (@lckfanx2) November 19, 2023
Seeing Veiaco lift the 4th cup live is only for the real ones#BOTANOBAIANO

— SOLVE Ranger (@rangerlol1) November 19, 2023
Four-time champion.

2013 –
2015 –
2016 –
2023 –

Ten years after his first title, Faker wins the LoL World Cup again.

The biggest in League of Legends history. pic.twitter.com/FWBJJCgd5q

— Luís Santana (@luisshowtana) November 19, 2023
Namoral, this is Mr. LoL and it's over (the art was from yesterday).

10 years ago I was watching him destroy the world of Nidalee and Zed mid, being the biggest reference for champions assassin.

Today I saw the old man live a camp just playing with 3 dolls and playing with 2 others only in the final and cup.… pic.twitter.com/WNUYCU30R7

— Sports Correspondent (LoL) (@Correslol) November 19, 2023
Now there are no people who watch competitive League of Legends who haven't seen Faker win a Worlds

Madness

— Calise (@DarkCalise) November 19, 2023
TheShy na final do #Worlds2023

1/4/1
0/6/1
0/6/3 pic.twitter.com/vn6hOe9GMc

— LeonButcher (@LeeonButcher) November 19, 2023
I ended up dozing off in the last game and woke up at the exact moment Faker was lifting the trophy. It's strange, I've seen this same scene 3 other times, but each time it's a different emotion

I confess that this final was not very encouraging for me. I think the narrative of (+) pic.twitter.com/V11L7697qb

— tabsssssss #Worlds2023 (@_tabssx) November 19, 2023
The sun and the moon… and the five peaks. This is a work of art also known as "The Painting of the Kings".

However, the painting is incomplete…

It is said that only when the king was present in front of it would the painting be complete. #Worlds2023 pic.twitter.com/VbK2OaITzU

— T1 Pang (@PpangLoL) November 19, 2023
T1 IS WORLD CHAMPION!!!
3×0 LIMPOOOOOOOO

And after 10 years of his first title, Faker gets another one to count pic.twitter.com/ZAotyLxZXz

— Mylon (@mylonzete) November 19, 2023
• Defeated all 4 LPL teams
• Stopped the Golden Road
•Went through the bracket stage by playing their own picks, which was what made this roster such a feared team in the first place

Congrats to T1! pic.twitter.com/3nFAyBwt9C

— Renato Perdigão (@Shakarez) November 19, 2023
A stadium that rose and is immersed in HAPPINESS.

T1 IS WORLDS CHAMPION 2033 @LLA pic.twitter.com/st2gZc93j5

— Lau Agnolin #Worlds2023 (@lauagnolin) November 19, 2023
NOW YES, form a single line there to apologize to Oner! pic.twitter.com/CBBq8frFT9

— T1, WORLD CHAMPION, Brazil (@T1Brasil_) November 19, 2023
Worlds2022 vs #Worlds2023 pic.twitter.com/Ae8odlQaRT

— Mais Esports (@maisesportsbr) November 19, 2023
Gumayusi sent a message to Brazil's fans at the request of @takeshilol1straight from Seoul!

"Thank you to the Brazilian fans for their support. Thanks to you, we managed to win. Thanks. #T1Fighting" pic.twitter.com/hawKNz49X3

— #CBLOLDiff (@CBLOL) November 19, 2023
Faker is INSANE, 10 years at a HIGH LEVEL is completely out of the box

GOAT

— LOUD Robo (@robolol1) November 19, 2023
Faker is league of legends

True GOAT

— LOUD tinowns (@Tinowns) November 19, 2023
Faker is Pelé lol

— Joker (@loud_victor) November 19, 2023
See also: Son, from Tottenham, congratulates T1 on the world title
Source: https://maisesports.com.br/worlds-2023-t1-atropela-a-weibo-gaming-e-e-campea-mais-uma-vez