Popin is bringing eco-friendly playgrounds into the home with new launch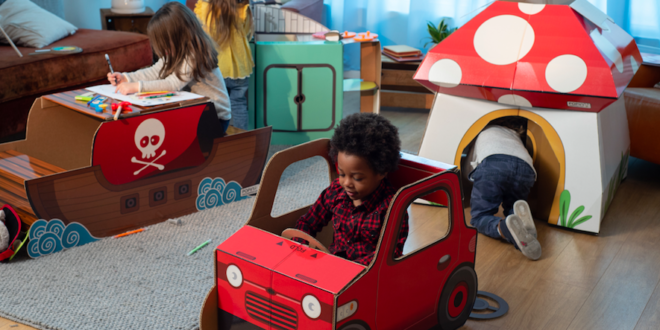 A team of toy developers is launching a new eco-friendly indoor playground for children and families living in urban areas with limited space for toys and play.
Popin has today released details of Popin Playground, an indoor playground made from recycled materials that expand into full-sized play equipment, and folds away for storage to a flat pack thinner than three inches.
It is a new range aimed at the 54 per cent of families living in urban areas, many of which – according to the firm's research – 'have limited space for play within the home.' On top of this, it carries an eco-friendly message.
"Rather than difficult to recycle thermoplastics, Popin Playgrounds, made using proprietary double flute, reinforced corrugated cardboard, basically, are super strong,' reads a statement from the company.
"They're also incredibly durable and can support up to 110lbs."
There are four sets in the initial Popin line-up, including the Pirate Ship Activity Table, Play Kitchen, First Step Car and Mushroom Playhouse.
Each Popin is designed with StrongFold technology. It folding method is based on traditional origami and pop-up artwork. The range has already won a number of design awards, including th 2019 Green Product Award and the IDA Design Award.
"Popin helps to develop symbolic play skills and ignite creativity by encouraging communication and active play," said a Popin spokesperson. "Each toy is designed to spark self-expression, stimulate gross motor skills and stretch your child's imagination. Put all of the toys together and Popin becomes a full indoor playground that promotes growth and development."