Clementoni launches 100 per cent recycled toy range for babies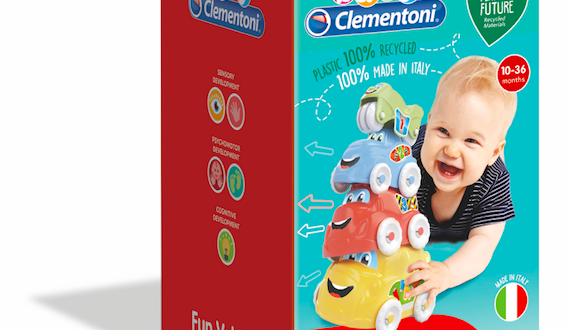 The learning and play specialist, Clementoni, has launched a new line of toys made from 100 per cent recycled materials under the Baby Clementoni Play for Future brand name.
The move comes as greater demands continue to be asked of toys companies and the products they develop towards meeting sustainability goals.
"With many parents contributing and conveying an eco-friendly attitude to their children, toys which protect nature and are made with recycled or natural materials are being sought," said Clementoni.
"Clementoni believes that playing is a great way for children to learn the importance of respecting nature and the environment and have developed a range of products that follow this philosophy, to build a better future."
The company has therefore launched its Play for Future brand, a product range aimed at babies aged ten months and upwards and uses 100 per cent recycled plastic. The range consists of six products designed to help develop motor skills in children, including a shape sorter, stacking rings, ball drop castle, baby garden, fun vehicles, and a workbench.
On top of this, and launching for AW2020 and for babies age 12 months and up, are two vintage style items – a Scooter Walker and a Ride-On, both made with 100 per cent recycled plastic.