7 NPCs that got their own games or DLCs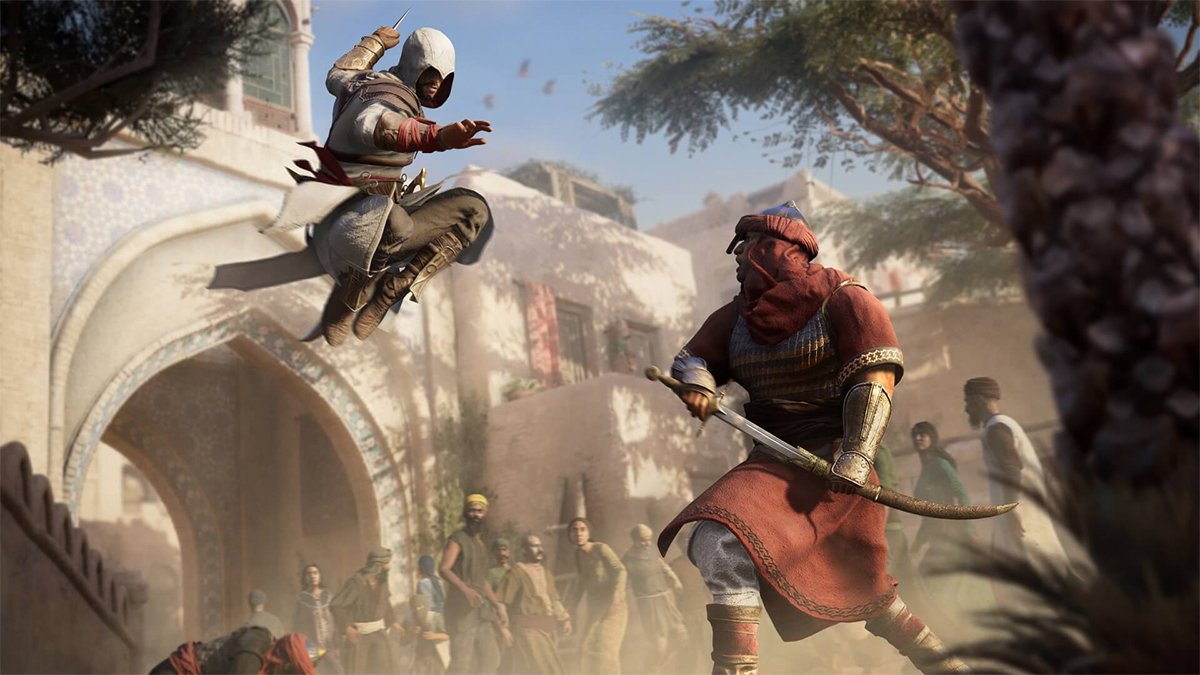 In every entertainment industry, any project has protagonists to shape the plot. In addition to them, we also have the chance to see secondary characters who gain prominence among the public and, in some way, star in their own projects — something that also applies to the world of games.
Thinking about that, We will list below some NPCs that won their own games or DLCs, and ended up being quite successful in these projects. Check out!
1. Basim (Assassin's Creed Mirage)
Basim was already well-known to fans of Assassin's Creed due to the fact that he appeared as an NPC in Assassin's Creed: Valhalla. He will be the subject of conversation again very soon for starring Assassin's Creed Miragea game that debuted this week and presents more of its past.
Basim was born in Iraq in 835, and it was as a teenager that he learned some robbery techniques to stay alive. However, at the age of 17 he began to suffer from visions involving a Djinn, a spiritual being from Islamic culture that exists between angels and humans. He is almost killed in a robbery attempt, but has a new chance when he is saved and begins training to become an assassin.
After a long period in Baghdad, the discovery of his connection with Loki and the alliance created with Eivor (which would be dissolved shortly afterwards), Basim prepares to star a game that promises to honor the legacy of the series, as well as having a greater focus on the narrative.
2. Chloe Frazer (Uncharted: The Lost Legacy)
Of Indian descent, Chloe Frazer first appeared in Uncharted 2: Among Thieves to be one of Nathan Drake's love interests — and appearing in a more modest way in the other two titles in the main franchise. However, this scenario changed with Uncharted: The Lost Legacy.
The Lost Legacy gives Chloe her deserved space as the protagonist, exploring a little more of its history as it progresses alongside Nadine Ross on an adventure through India. All of this happens in a game style very similar to the other titles in the series, offering third-person exploration, shootings and content to keep you entertained for up to 10 hours.
An important detail to mention: This is the first and only title in the franchise that does not feature Nathan as the protagonist. In fact, he doesn't even appear as a controllable character in this adventure.
3. Alyx (Half-Life Alyx)
It's been a while since Valve was excited about working on something involving the series Half-Lifetaking some fans by surprise with the announcement of Half-Lfe: Alyx. It is a virtual reality game that, as the name suggests, features Alyx Vance as the protagonist.
The girl appeared as a character in Half-Life 2, starring in an episode with events located between the first and second title of the main franchise. Alongside Eli, her father, Alyx becomes involved in confrontations against the Combine and their attempt to occupy Earth.
In addition to a plot that unfolds more about Alyx's story, this Half-Life fell in favor with the public and it was successful enough for Valve to say that it would no longer be afraid to change the franchise. However, nothing Half-Life 3 until now.
4. Rebecca Chambers (Resident Evil Zero)
The first Resident Evil It was a milestone for many players not only because of its theme and moments of action against zombies, but also because of the characters allied to the protagonists. Among the names we were able to interact with on this journey, we have Rebecca Chambers.
Rebecca begins her journey in the first Resident Evil as a doctor with practically no experience, and we have the chance to learn a little more about her origins in Resident Evil Zero. In this game, she joins forces with fugitive Billy Coen, learning a little more about Umbrella's initiatives before the events that took place at the mansion.
Resident Evil Zero would initially be released for Nintendo 64, but Capcom changed plans and ended up making it one of the games that showed the power of the GameCube. The title also ended up exploring a mechanic that divided opinions, as it leaves aside the classic chests for storing items and adopts a system in which you can simply drop them on the floor to free up more space in your inventory.
5. Peach (Princess Peach: Showtime!)
Peach is an old acquaintance of players for being the character rescued by Mario in several of his games. However, on some occasions, She proved that she can manage very well on her own, and this is the case of Princess Peach: Showtime!
Scheduled to arrive on Switch only next year, the game will tell a story in which Peach teams up with a guardian spirit to save the Sparkle Theater. Because of this, she will have the chance to wear costumes that grant different powers, such as swordsman, cook and detective, and face various opponents along the way.
6. Toni Cipriani – (GTA Liberty City Stories)
Toni Cipriani first appeared in Grand Theft Auto 3 as a character we could interact with under Claude's control. However, his style made Rockstar Games decide to invest in a side project starring him, giving the world the chance to enjoy GTA Liberty City Stories.
Liberty City Stories is set two years before the events that we had the chance to see in the third canonical game in the franchise and was one of Rockstar Games' bets on the PSP, the game's original console. And the laptop didn't do badly, delivering a consistent game, with several missions, different cars to drive and even the inclusion of motorcycles as controllable vehicles.
7. Zack (Crisis Core Final Fantasy VII)
Zack is one of the NPCs in Final Fantasy VII who caught public attention due to his connection with Cloud, and had much of his past explored in Crisis Core Final Fantasy VIIoriginally released for PSP.
The title gives more details about his past as a member of the SOLDIER division, in addition to following the moment he received the Buster Sword, interactions with Sephiroth and Cloud and the fateful moment of his death.
Even with a captivating story, Crisis Core experimented on some courses that did not please all players, especially free evolution. The system is based on a kind of slot machine, which increases its strength at random moments during the adventure.
And you, do you remember more NPCs who had the opportunity to star in their own games or DLCs? Share your message with other readers of Voxel using our social networks.
Source: https://www.tecmundo.com.br/voxel/272477-7-npcs-ganharam-proprios-games-dlcs.htm