Worlds 2023: "We're not 100% yet", reveals Gumayusi about T1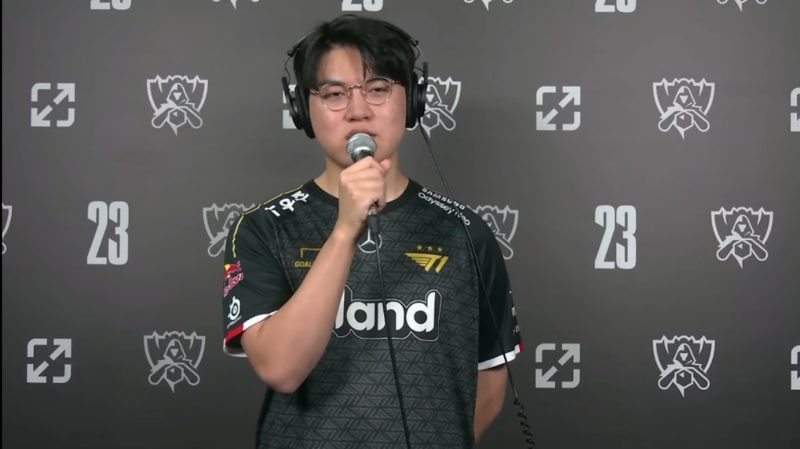 A T1 won the Bilibili Gaming last week and with that guaranteed their qualification for the playoffs of the Worlds 2023, the LoL world championship. In an interview, Gumayusi highlighted that the team is not yet 100%, but revealed that the defeat against Cloud9 helped the team gain confidence.
Watch the video below, or, if you prefer, read the interview in text afterwards:
Does Gumayusi do better at worlds than in LCK?
Yes, I've heard those comments that I'm better at the world championships. I try not to obsess too much about these comments, but if I have to find reasons, maybe between seasons and Worlds, there is a longer period without games, so I can get enough rest. I think that's the reason.
Who would T1 like to face and in what areas can T1 improve?
For the quarterfinals, the team options are a bit limited, so I don't have a specific team I would like to face. But no matter which team we play, we will beat them. Regarding team development, perhaps teamwork or teamfights are areas where we can improve.
Is T1 already meeting fans' expectations?
I believe that our performance is not yet at 100%. Maybe if we play against JDG and Gen.G, we can be more sure about our performance.
Gumayusi talks about the team's improved confidence after victory against Cloud9
Yes, winning C9 with a great performance helped us gain confidence and had a positive effect on our entire team. For the fans in Latin America, thank you for your support and keep watching us. Thank you very much.
T1 will face LNG on November 5th, in the quarterfinals of the LoL world championship. Whoever loses is eliminated from Worlds 2023.
Follow complete coverage of Worlds 2023 with game calendar, results, tables, format and other information here on More Esports.
published in November 1, 2023
Source: https://maisesports.com.br/worlds-2023-ainda-nao-estamos-100-revela-gumayusi-sobre-a-t1