Worlds 2023: "We need to find confidence", says Caps about G2's moment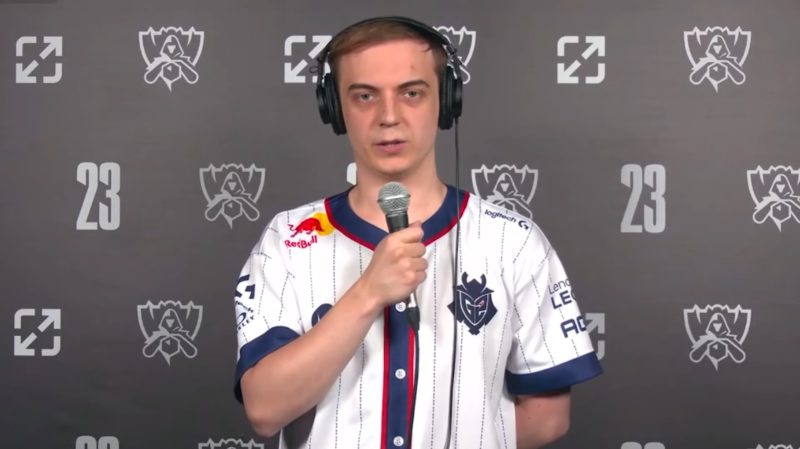 A G2 was surprised by NRG this Saturday (28) and suffered their second defeat in the competition, having to play for all or nothing on Sunday (29). In collective, Caps talked about the series against NRG and revealed what G2 needs to be able to win and go to the playoffs.
Next, watch the full interview of Caps in video. If you prefer, read the transcription of answers right after.
Caps talks about the loss to NRG and what went wrong
I think a lot of things went wrong for us, but I think at the end of it all we fell into a bad rhythm in the game. We didn't get much of the plays that were coming our way, maybe nerves got to us or we just felt a little uncomfortable in the game. They managed to neutralize us really well and we weren't that good at playing the slow game. Fortunately, we still have tomorrow to see if we can reverse the situation.

I think we had a lot of good moments in the series. We managed to get a good gank in the mid, which was very good, and I think that in the early game we were doing well, we were at least holding on. But once we got to the fights for the Dragons and Heralds, I don't think we did well. Our strategies weren't good enough today and we weren't able to capitalize when they wasted a lot of flashes, so we fell further behind.
What did NRG do to surprise G2?
They had good answers for what we wanted to do. They were always where they needed to be and generally kept us from doing what we wanted. I think today we were not creative enough to find solutions for this. I hope that in the future we can adapt to this.

They went with a lot of standard choices or choices they had shown before, so we weren't completely caught off guard. I think we had good preparation about what they wanted to do. We were just caught off guard during the game. I think we had a good read on what they were going to play, but maybe not the way they played, and that ended up costing us dearly.
Caps cites NRG with "a lot of confidence" against G2
I think NRG simply played with a lot of confidence today. They were very good at playing defensively around our openings, we didn't respond well to their openings and they made a lot of plays after having advantages.
Caps talks about the possibility of Senna becoming a target at Worlds 2023
It's interesting to see that T1 also chose Tahm Kench and Senna, and it will be interesting to see how the priority on these champions will change throughout the tournament. So far, it's been a fourth or fifth pick. Maybe the priority increases or maybe there are choices that can be made against them that are too strong if you choose them early. So, we will have to see how the priority will evolve. But considering NRG won and T1 will likely win with these picks, maybe we'll see more of them.
A G2 subestimou a NRG?
We always go into every game thinking it will be difficult, but also that we can win. They definitely did better than I expected today, but at the same time, I've been to Worlds a lot of times, I've had a lot of losses against teams that we thought we were going to beat. I think it's the nature of the World Cup and we just didn't show up today. We need a reset to tomorrow and play with all our hearts.

It wasn't necessarily overconfidence either. They were definitely better than we expected today, but we knew they were a strong team, right? They won the LCS and also defeated MAD Lions, so we knew they could be a big challenge for us, but maybe not as much as they showed.
What does G2 need to improve?
I think maybe we need to find some trust somewhere again. Obviously it's difficult after a defeat like that, but I think our opponents were playing too slowly for us and we couldn't find the openings we wanted to exploit.

Obviously it's not an excuse, I think there are always a lot of options, we just didn't see them in the game and we weren't sharp enough today. I think we just need to rest well tonight, prepare hard, and I believe we will find those openings and win next time.

There are a lot of regrets in the series, especially when we lose, but we got the timing wrong in both games. I think even the first game was definitely in our favor at the start. So we need to find the right moments for the Dragons and Herald especially, and decide whether we want to fight for them or not and what we will do instead.
Team Caps would like to face
I'm not sure who exactly we want to face. I believe that no matter who we face, we can win for sure, as long as we correct our own mistakes and play with a lot of confidence. There are a lot of teams that would also be cool to play against, especially now that we are 2-2, as they are high-stakes series. Maybe we can face BLG because they eliminated us from MSI, so it would be cool to eliminate them too.
The next Worlds 2023 games
With today's victories, five teams are already qualified for the tournament playoffs. T1, JDG, NRG, LNG e Gen.G. The last three teams that will be in the decisive phase of the competition will be defined, on Sunday (29), from 00:00.
Team Games 2-2
Dplus KIA x KT Rolster
G2 x BLG
Fnatic x Weibo
Follow complete coverage of Worlds 2023 with game calendar, results, tables, format and other information here on More Esports.
Source: https://maisesports.com.br/worlds-2023-precisamos-encontrar-confianca-diz-caps-sobre-momento-da-g2