Worlds 2023: "One step closer", says Missing about JDG's Grand Slam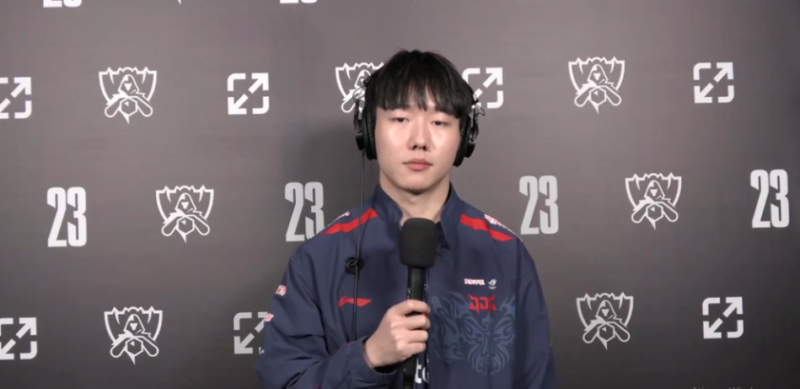 JDG beat KT Rolster, fulfilled its favoritism and is in the semi-finals of the Worlds 2023! Os LPL and MSI 2023 champions are close to attempting an unprecedented feat in history: the Grand Slam.
In a press conference after the victory, MissingJDG support, talked about the series, Ruler being the best world, the possibility of Golden Road achievements and also the support target in the LoL world championship.
Did favoritism affect anything in the series against KT?
Being considered a favorite is a recognition of how good we are as a team right now. We don't care what outsiders say or what kind of opinion they have of us. We just play our own game and do our best to win every match we have.
Missing Rakan against KT in most games
We expected them to leave Rakan open in the pick and ban phase, and in three of the four games, I'm personally very pleased with the performance in the third game.
Possibility of 4 LPL teams in the semi-finals
The possibility will be 50%, as both teams are very strong and I think the confrontation will be very balanced.
Lots of spotlight for Ruler. Is Missing lacking credit?
I think the bot duo consists of two people, so as long as we can be at the highest level and win trophies, we are the best bot lane.
How does JDG feel close to the Grand Slam?
I think we are one step closer to the Grand Slam, but let's not focus too much on that right now. The most important thing for us is to play very well in each match. At the World Cup, all the teams are very strong, and we cannot predict whether we will lose or win in the next match. Let's just play our own game and play well.
Engage or enchant support?
In this current meta, many champions are available. It doesn't matter if they are charming or engaging supports. It really depends on the composition.
Possible confrontation against T1
If we face T1 in the next round, because we already played against them in the semi-finals last year, this time we will prepare very well and hope to get the rematch.
Next Worlds 2023 game
The next Worlds 2023 game will be between T1 and LNG, which is scheduled to take place this Sunday, starting at 5am. The South Korean team is the last LCK representative in the tournament and if they don't win, four teams from China will be in the semifinals of the competition.
Follow complete coverage of Worlds 2023 with game calendar, results, tables, format and other information here on More Esports.
published in November 4, 2023
Source: https://maisesports.com.br/worlds-2023-um-passo-mais-perto-diz-missing-sobre-grand-slam-da-jdg