Worlds 2023: NewJeans and HEARTSTEEL will perform the opening show of the final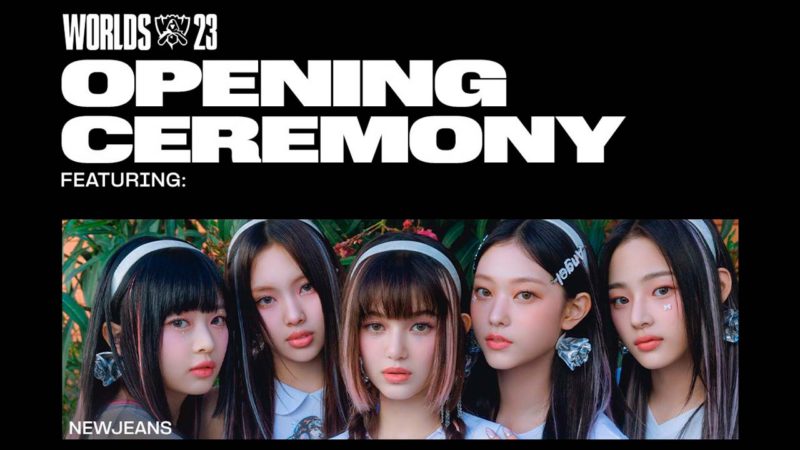 A final do Worlds 2023 is scheduled for the day November 19 and will feature the presence of several artists in the opening show. The group NewJeans, responsible for the song GODS, will participate in the event, as well as the artists from Boy Band HEARTSTEEL.
y'all ready for this? introducing your #Worlds2023 Opening Ceremony artists:

⭐ @NewJeans_ADOR
⭐ @B_hundred_Hyun
⭐ ØZI
⭐ @calscruby
⭐ @tobilou

November 19 | 00:00am PST (17:00 KST) | https://t.co/3pBd7m3rSx pic.twitter.com/Mp0P4q2JdJ

— Riot Games Music (@riotgamesmusic) November 3, 2023
The grand final will take place at the Gocheok Sky Dome in Seoul and promises to surprise all fans. Riot Games has a positive track record in LoL World Cup final shows and always seeks to impress fans who are watching in person and via broadcast.
It is expected that both GODS, by NewJeans, and PARANOIA, by HEARTSTEEL, will be performed live by the artists.
About Worlds 2023
At the moment, Worlds 2023 remains in the quarterfinals. JDG will face KT Rolster on Saturday (4), while T1 will face LNG on Sunday (5). Weibo Gaming and Bilibili Gaming have already qualified for the semi-finals.
Follow complete coverage of Worlds 2023 with game calendar, results, tables, format and other information here on More Esports.
published in November 3, 2023
Source: https://maisesports.com.br/worlds-2023-newjeans-e-heartsteel-farao-o-show-de-abertura-da-final