Worlds 2023: LOUD loses to GAM and is eliminated from the LoL world championship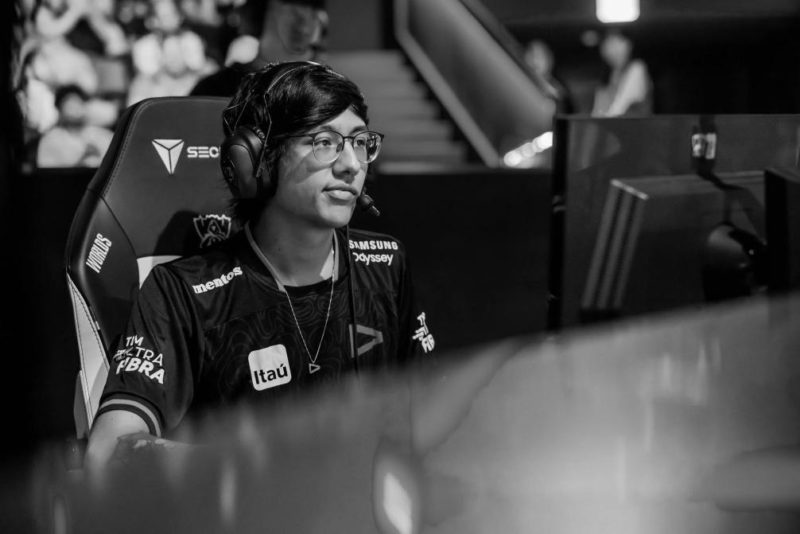 A LOUD lost to Gigabyte Marines 2-0 and it's eliminated from Worlds 2023. In a rematch of their debut in the championship, the Vietnamese won and advanced to the MD5 qualifier.
With the defeat, the Brazilians return home with just one victory in the tournament and two consecutive defeats. If you prefer, go directly to:
LOUD x Marines summary – Worlds 2023
The first match was a real shock for the Brazilians. LOUD started very well, nullifying Levi's Nocturne, but saw all of its advantage go down the drain with questionable decisions throughout the game. In the fights, the Marines got the better of them and took a 1-0 lead in the series.
The second game was almost a replay of the first, with LOUD starting well, but making bad decisions and making mistakes when executing plays. Taking advantage of this, GAM soon grew in the series and only needed to control the advantage acquired to emerge with the victory and 2-0 in the series.
See the statistics:
Repercussion of the defeat in the community
LOUD's elimination had a lot of repercussions on social media. Spectators and even influential figures from the scene were frustrated and criticized the performance of some players in the series.
LS, a renowned community analyst, mentioned that LOUD's draft in this series was one of the worst he has ever seen in international tournaments and criticized Robo and Croc's performance.
See the main tweets about LOUD's elimination:
the worst perfromance from a top/jungle duo in a series all worlds… #worlds2023

— LS (@LSXYZ9) October 14, 2023
— GAM Esports VN 🇻🇳 (@GAMesportsVN) October 14, 2023
I warned you to close the server, I did my part.

— Absolutely (@Absoluttlol) October 14, 2023
And that

— Felipe Gonçalves (@brttOficial) October 14, 2023
Being out of the World Cup is sad

Being left out of the World Cup for the team that we gave 2-0 like this is even sadder than anything

— Gabriel Henud (@revoltalol) October 14, 2023
Worse than this year, we won't even be able to say that we gained experience

— Gruntar (@GruntarTV) October 14, 2023
and for those who say that every year is the same

this year was not

it was much worse

I'm double frustrated LOL

— Dan (@Danielsmarconn) October 14, 2023
23:59
PSG 🇫🇷 YOU CAN WAIT 🤚 YOUR TIME WILL COME ⌛️
PSG 🇫🇷 YOU CAN WAIT 🤚 YOUR TIME WILL COME ⌛️
PSG 🇫🇷 YOU CAN WAIT 🤚 YOUR TIME WILL COME ⌛️

00:00
Questionable drafts
Bad side of "IT'S ROBS"
Absolutely tilted croc
tinowns off
Route in fear
Ceos surrendered
✈️ 🇧🇷 pic.twitter.com/wMY5VweJp6

— LeonButcher (@LeeonButcher) October 14, 2023
Cara…

Croc I really like you brother, but it's a shame you're our best jungler

To puto, ralei 👍🏻

— Jukera (@Jukeslol) October 14, 2023
We end the LOUD LOL campaign in 2023 here!

We sincerely thank everyone who followed the #Worlds2023 with us donating and vibrating until the last moment of the championship.

We will continue to seek to better represent the Brazilian flag abroad every day, just like… pic.twitter.com/UbirG5AQcY

— LOUD 🇧🇷 (@LOUDgg) October 14, 2023
Robo and Croc came in totally different today, they look like they are completely tilted

Robo, I think he overcharged himself and got mad at the Croc being bad, and he just doesn't have an international level.

— Mitas (@eomitas) October 14, 2023
CROC??????????

Is this a betting scheme, not possible?

— Fabio Figueira (@techzztft) October 14, 2023
End of the line.

LOUD loses once again to Marines and is eliminated from Worlds 2023.

That was one of the toughest eliminations for me of the last ones we've had, because I was really confident.

I shake too much.

— Luís Santana (@luisshowtana) October 14, 2023
Were you looking for 2 places for Brazil at the worlds? It seems like you don't deserve any

Shame, just shame. loud shameful

— Rafael Seiz ☭ (@FormatoForFun) October 14, 2023
we lost loud eliminated from worlds already

Then see sla vsf gnt is very bad riot closes the server br

— naju namo da magi 🎃 🦕 (@najusw) October 14, 2023
Robot turned on ghost and is running towards Brazil, and Croc threw the flag straight into the office. great day!
.
.loud
.worlds

— streliz (@streliz_) October 14, 2023
Loud has the 5 best players in Brazil and we don't click there, we will simply never be happy on the international msi/worlds stage. That said, BACK RIFT RIVALS PLEASE RIOTGAMES

— Calopsy (@CalopsyLoL) October 14, 2023
It's not possible that I woke up at 4 in the morning to see croc and robo play like that, no man, it's a lot of old catfish PQP, put on the fucking nick link and lord semi that gives more game. pic.twitter.com/sPTUb8e8Jg

— Siulepilef12 (@siulepilef12) October 14, 2023
I woke up at 4 am to see Loud losing to PSG as happens in every World Cup and MSI. Why am I like this? pic.twitter.com/R37dlLJrhN

— flavi (@flaavits) October 12, 2023
Croc looks like he's playing jungle asking what he has to do for SpongeBob's magic shell.

"Do I make these birds here 1v5 with baron alive?" pic.twitter.com/6BSq9pf72C

— Juliao (@VuIgoJuliao) October 14, 2023
Ceos talks about "hassle" in the series against GAM
In an interview on stage, Ceos, supporter of LOUD, spoke of "hassle" in the series against GAM.
I think, I wouldn't say they read it that way, I didn't feel like our draft was a problem. I think we were just a little flustered, they certainly changed a little from the first series, but I wouldn't say they understood us and managed to counter us. I feel like today they just played better.
O @loud_ceos talked a little with @rafaelatomasi and the @takeshilol1 about the series against GAM#Worlds2023

🟢 https://t.co/7rYXHJrGvi pic.twitter.com/BOgp0f8N3H

— #CBLOLDiff (@CBLOL) October 14, 2023
In an interview, Tinowns opens his heart about the defeat to GAM
In an exclusive interview with More Esports, Tinowns opened up about the elimination and spoke of great frustration with the result. He commented on the team's mistakes and said that he had high expectations for the tournament. Check out:
Robo talks about the most frustrating series of his career
In a press conference, top laner Robo mentioned that this was the most frustrating series of his career.
We were on a path where we saw that it was possible, everyone believed that we could do it, we needed to beat two teams from Vietnam in a row and we beat one of them once, we showed that if we played our best, we could win, and that's what makes me more frustrated. Knowing that if we had played our best, we could beat them, and because of that I'm very frustrated.
Croc has the worst LOUD performance
Croc was one of the players most criticized by the community due to his performance at Worlds 2023, and his numbers in the tournament were not good at all.
Croc had the most kills and worst KDA among LOUD players. Furthermore, this was also his worst international tournament, comparing KDA with Worlds 2022 and MSI 2023.
Confrontations that are worth a place in the Group Stage of Worlds 2023
With the result, we will have a repeat of the VCS final between GAM and Team Whales, which means that only one team from the region advances to the Group Stage. Next, Team BDS faces PSG Talon, taking the second spot. See the schedules:
Team Whales vs GAM – 05/10 às 00h
PSG Talon vs Team BDS – 05/10 at 04h (approximately)
Follow complete coverage of Worlds 2023 with game calendar, schedules, table, statistics, format, teams and other information here on More Esports!
Source: https://maisesports.com.br/worlds-2023-loud-perde-para-a-gam-e-esta-eliminada