Worlds 2023: Faker rules out retirement; watch the T1 press conference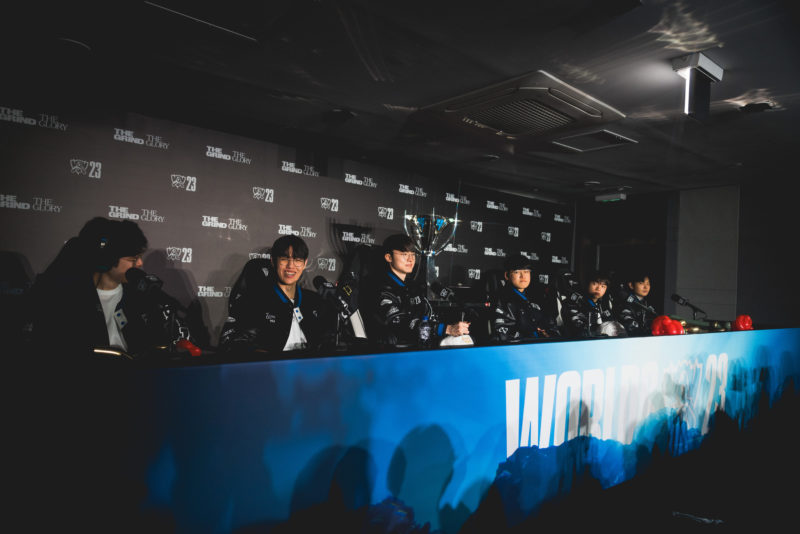 T1 defeated Weibo Gaming 3-0 and lifted the World Cup Worlds 2023! This is the fourth time that the organization has achieved this feat, further increasing the advantage for the other winners.
In a press conference, the team commented on the champion skin choices, Faker spoke about retirement and changing mentality, while Dig it up he talked about the feeling of winning the championship.
Check out the players' responses in full below!
A quick question, traditional in every champions' press conference: Which skins will you choose for winning Worlds? And for Faker, do you intend to use yours?
Zeus: Jayce or Yone, I'm thinking between the two, my heart says Jayce, but my head says Yone.

Oner: Lee Sin, even though he has a lot of skins, I thought about it and I want one for him.

Faker: I haven't decided yet, but when I choose a champion for the skin, I want to make sure it's one that appeals to a lot of fans. And I don't know if I'll use it, I have to think about it.

Gumayusi: Jinx.

Keria: I wanted Lux, but since I didn't play with her, I should choose Bard or Renata Glasc.
Congratulations for the victory! Faker, this is another highlight of your career, winning in your country and another world title, in addition to the gold medal this year. Does retirement cross your mind, or will we still have Faker for a long time?
Considering that I have a contract, I will continue playing for T1. During my professional career, I learned and grew a lot as a person, and this is not a common experience you have as an "ordinary person", so I will continue to do my best and leave it to think about retirement in the future.
Keria, last year we had that moment when you broke down after the defeat. Now we have a new moment and a new memory to replace that one. How do you feel?
This is quite surreal to me. I feel like I don't have many titles in my career and this ended up putting me in pressure situations during very important matches. This experience (title) helped me regain my confidence, and I believe this will be very positive for my future.
Oner, you had a lot of performance issues during the second split, but many consider you the best jungler in Worlds. How do you compare your performance then and now and why are you doing so well?
In esports there are times when we are not doing well, we play poorly, but it is very important to be able to improve when you are playing like that, instead of just stopping. I believe the improvement is due to the fact that I never gave up.
Gumayusi, we saw that your family is very important to you, and we also saw photos of them in the teaser. How many of them were here in the final? Did you receive any messages from them?
Apart from one of my sisters who lives very far away, all the rest of my family was here, and yes, I exchanged some messages with them right after the series.
Faker, in my opinion, you managed to win four times because you have great faith and strong "beliefs". What do you strongly believe in, but maybe other people don't?
I don't know if there's anything I personally believe that's different from other people, but I think one of the most important things is that you can always learn from experiences, so as long as you're always willing to learn and grow, I believe it's possible to win. This time luck was on my side, we had a great experience and I'm grateful for that.
Faker, in the Philippines you have a lot of fans, and I think all over the world. What do you think about having so much public support outside of Korea?
Having a fan base of so many people outside of Korea doesn't necessarily mean that I'm good, but I believe that what makes me have so many fans is all the involvement that has been created throughout my career. Being able to have all this support is something that inspires and motivates me as a person, so I'm very grateful for that.
Faker, after you won the World Cup, you said you weren't worried about whether you would win or lose today, but rather grateful that you still had the chance to continue playing. This message of being grateful and not focusing on the number of wins, losses or trophies you have is something you carried this year and also last year. Can you talk about this type of thinking and how it helped you have such a long career?
I've always been quite curious about how the outcome could be different if I focused more on the process and not on the outcome of victory and defeat. Since I was able to focus more on the process, I was able to learn even more. In the end, I will always be grateful that I'm still here and able to play. This allows me to concentrate better and perform better. My main objective with this World Cup was to maintain my posture and mentality, even if I finished 0-3 in the finals, I would still be able to smile. Even after I won, I didn't want to shake my emotions, so I think all of this really brought good results.
T1 Worlds 2023 champion
Amid the record audience for Worlds 2023, T1 overpowered Weibo Gaming and became four-time LoL World Champion. Faker reached an unprecedented fourth LoL World Championship title.
The community reacted very excitedly to Faker's fourth victory, ten years after his first tournament title. Even VALORANT professionals praised Faker and his career. Son, Tottenham forward, celebrated the team's achievement.
Furthermore, the South Korean organization needed to beat all the LPL teams to lift the competition cup and Zeus was the MVP of the final with great performances against TheShy.
T1 players also commented on which skins they will choose.
Source: https://maisesports.com.br/worlds-2023-faker-descarta-aposentadoria-em-coletiva-veja-todas-as-respostas