VALORANT Champions 2023: "It was a perfect year", says Saadhak about LOUD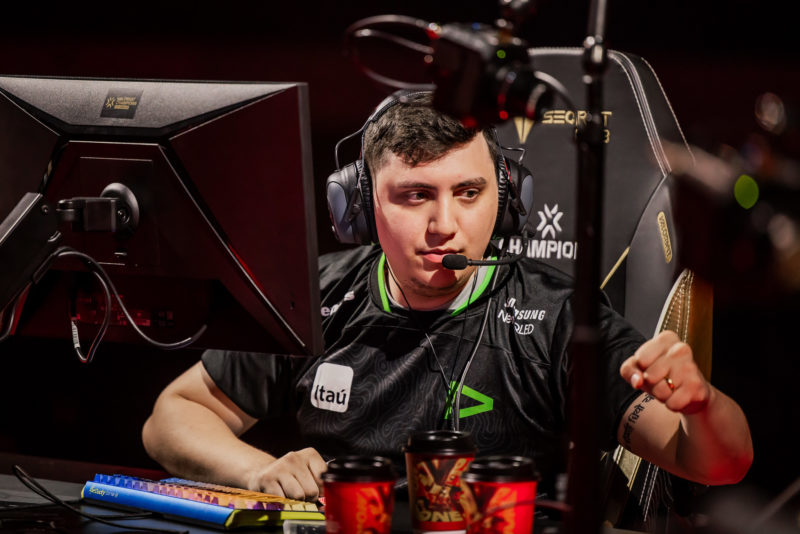 Even after removing the LOUD to the Evil Geniuses no VALORANT Champions 2023, The captain Saadhak was very happy with the team's performance in 2023, especially considering the line-up change from 2022 to 2023.
LOUD was runner-up at Lock//In and was champion of VCT Americas 2023. At Masters Tokyo they were eliminated early, but came back with everything for Champions 2023 and finished in third place.
In an interview, the LOUD captain spoke about the series against EG, cited the tiredness of the format and also took stock of the year 2023.
Saadhak talks about series against EG
We made a lot of silly mistakes. We usually don't lose anti-echo, for example, but we talk about it with the boys, we're really tired, it's been a lot of games. It's not an excuse, it will never be an excuse, but we're doing what we don't do, some silly mistakes.

That was the biggest chaos, we lost a lot of anti-echo, the first and second maps started very badly, we almost turned Ascent. Then, our Split is very good thanks to God, Lotus we didn't understand nothing at all, everybody was sleeping.
LOUD captain mentions hard work and talks about the top 3 of the world
It was something we worked on a lot, which is to be well. We knew that we were making very silly mistakes because of the tiredness, but we knew that there was a chance to really come back. When Split fell in our hand, we studied them a little bit yesterday and we understood more or less what the game was and it worked.

But we always say the same thing, we are very happy to be here, happy to be on stage, to have reached the Top 3 in the world. So for us it's amazing, we had to rebuild the team, we went through difficult times in Japan, this shows that the team has a lot of resilience
Saadhak calls 2023 a "perfect year
Perfect (the year), for me it was more-than-perfect because new teams always have the same goal: to reach the Champions League. The Champions for me is always the goal because that's where you'll really play against the best teams in the world, that's who you'll really be tested against, and not only did we get to the Champions, but we also played against all the European teams, we beat them , we beat the Asian team, the NA team was missing, but now with EG it came very close.

So for me it was more than satisfied, I'm very happy, the goal that we set at the beginning of the year we reached, LOUD is very happy, I hope the fans are happy, even if we didn't come out with the first place we tried, but I'm very happy.
We exchanged an idea with @loud_saadhak post-departure of @LOUDgg, check out! 🎤#VALORANTChampions pic.twitter.com/AUMnG4gOPo

— VALORANT Sports BR (@valesports_br) August 26, 2023
Paper Rex and Evil Geniuses will play the Champions 2023 final
This Saturday (26) we will have the final of the VALORANT Champions 2023 between Paper Rex e Evil Geniuses Starting at 16 hours.
Follow the full coverage of VALORANT Champions 2023 with fixtures, results, statistics and other information here on More Esports.
Source: https://maisesports.com.br/valorant-champions-2023-foi-um-ano-perfeito-diz-saadhak-sobre-a-loud