Surge in demand for STEM toys and science kits 'will continue well into 2021' says Thames & Kosmos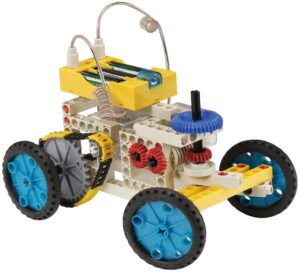 Parents looking to help their children catch up on terms of missed education this year will continue to fuel the demand for STEM and educational toys well into 2021, is the message that sector specialist, Thames & Kosmos is promoting as the firm releases details of a restocked portfolio of science kits in order to meet current demand.
Experts in the STEM sector, Thames & Kosmos has seen a sharp sales increase of 80 per cent year to date overall that it has attributed to parents shopping for educational toys and science kits for their children amid the pandemic. Having spotted the trend early on, the firm was able to order more stock to cover what it expected to be a popular trend for Q4 this year.
Its popular kits and higher ticket price ranges, such as its Electricity & Magnetism and Remote Control Machines kits from the award-winning Signature Series, as well as the Air & Water Power kit from its Alternative Energy Range are now back in stock.
"We are over the moon to share the restock of these popular kits with our customers. Despite the purchasing department factoring in a Brexit contingency buffer to allow for sufficient stock to tide us through the beginning of 2021 we've been surprised by the demand for STEM sets," Jo Drage, Thames & Kosmos sales director, told ToyNews.
"With overall sales up 80 per cent Y2D, clearly driven by the crisis, when we realised what was happening, we were lucky to be in a position to order more stock to cover Q4 2020, which is dropping into our warehouse now."
For a number of years, Thames & Kosmos has enjoyed a strong home-schooling customer base driven by its selection of educational kits that has been marked as a "shoe-in for parents that have struggling to deal with educating their children, without much warning."
The surge in demand for products throughout the year resulted in large numbers of back orders, particularly now, in the run up to Christmas.
"I think the trend will continue throughout 2021 as parents are keen to enable their children to catch up on all the missed education this year," continued Drage.
"We are also delighted to find that the resilience of the toy industry is ever present, and in the absence of toy fairs, we have had many of our core customer base already asking about availability and newness for 2021, which indicates that buyers are also thinking that the trend is still in full swing and very likely to continue."
This year, Thames & Kosmos' Electricity & Magnetism kit took home a Parents Choice Gold Award, championed for targeting budding physicists – aged eight and upwards – conduct more than 60 experiments with circuits and magnetic contraptions as they learn about electricity and magnetism.
Meanwhile, the Signature Series' Remote Control Machines is being restocked in time for Christmas deliveries with back orders heading out from this week onwards.
"Parents and Grandparents tell us how much they appreciate the extraordinary quality and sturdiness of the Remote-Control Machines when putting the models together," said Drage. "Children from the age of eight (and adults alike) get to assemble ten models, demonstrating different ways in which the motors can be used and can also let their imagination run free by designing their own remote control creations."
Finally, the Air & Water Power kit allows budding STEM enthusiasts from the age of eight to build their own models powered by air and water pressure to learn about the laws of physics.
The unique kit allows its user to build two different air-and-water-powered systems: water-jet propelled cars and hydro-pneumo (which simply means air pressure and water pressure) powered engines.
Drage concluded: "Parents and grandparents alike will appreciate the extraordinary quality of these restocked bestsellers, which is why Thames and Kosmos can pride themselves on such a loyal customer base."