Jazwares and Hasbro have teamed up for a retro revival of Micro Machines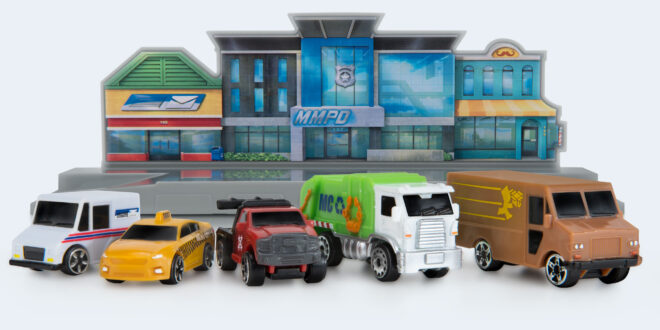 Jazwares and Hasbro are teaming up for a retro revival that will delight all fans of the '80s and '90s collectables hit, Micro Machines, with the relaunch of the entire line, including new play-sets and Micro Machine vehicles. The new retro-launch has landed at Target and Walmart stores across the US this week.
Returning for the first time in over 10 years, the classic toy automobile collection enjoyed a popularity for over 30 years. It now retiurns to the scene with a modern update.
A relaunch of the classic brand would not be complete without the cornerstone of the Micro Machines World, Super Van City. With over 20 action-packed locations and areas of play, this updated take on a classic Micro Machines item transforms from Super Van to Super City and features an entire miniature metropolis that can fold up to create an Airstream-inspired motorhome.
Bringing back the Micro Machine bundles, fans and collectors alike can also purchase an assortment of vehicle packs, including blind packs and world-building sets.
Vehicles at launch include Micro Machines Single Blind Packs($1.99), featuring an exciting mystery vehicle for their collection, a Micro Machines Starter Pack ($4.99) featuring three highly detailed vehicles that fall under a unified, iconic theme such as Muscle Cars, Farm, Racing, Construction, Off-Road and more, and Micro Machines World Packs ($9.99) featuring five highly detailed vehicles and a corresponding Micro City scene that allows you to play or display your vehicles.
The line also includes new Core Playsets ($14.99), each featuring an exclusive vehicle, that will enable fans to build out a connected world.
"Micro Machines is one of those collectable lines forever etched in pop culture and the minds of adults who adored them as kids," said Jeremy Padawer, EVP and partner at Jazwares. "Not only will fans of the original Micro Machines love the updated collection, but now they'll have the chance to introduce this iconic brand to their own kids as they connect and collect their Micro Machine universe together."
"Our collaboration with Jazwares to relaunch such an iconic vehicle property in Micro Machines is driven by our common mission for kids to think big and play small," said Casey Collins , general manager and SVP, Global Consumer Products, Hasbro.
"Together we want to encourage kids to immerse themselves in a world of vehicle play and collect amongst an expansive diverse set of themed vehicles and playsets. Couldn't be more excited to see this come to life globally."