Gibsons launches Puzzle It Forward campaign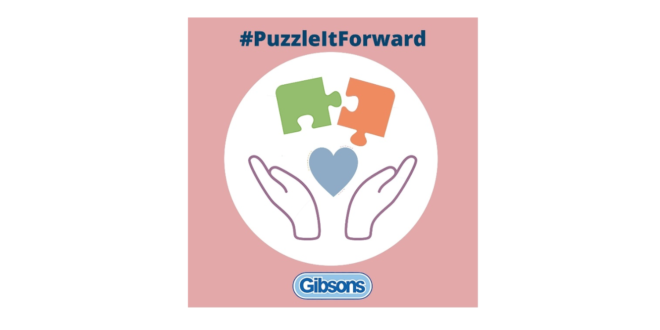 Recognising that times are tough for many right now, Gibsons, the family-owned jigsaw puzzle and board game company, has coined June as 'Kindness Month' and launched its #PuzzleItForward campaign. Running from the 1st to the 3oth June, the campaign challenges Gibsons' trade customers to spread happiness by gifting a completely free puzzle to their shoppers to brighten their day.
Alternatively, puzzlers can make a purchase directly from the Gibsons website between June 1st and June 30th and receive one free puzzle with their order. Minimum order spend is £10 and the free puzzle will be automatically added to their delivery.
Jigsaw puzzles have been scientifically proven to boost mental health through their meditative benefits. Piecing together a jigsaw is a great way to combat stress, but it is also beneficial for physical health. Refocusing the mind away from negative and stressful thoughts decreases cortisol and blood pressure levels [Dr Newton, 2017].
Gibsons' Commercial Director Amanda Chaplin says: "We're really excited to launch our #PuzzleItForward campaign. At its core, it encourages acts of kindness: whether that's a shop owner gifting a free puzzle to a loyal customer, or an avid puzzler passing their free puzzle on to a friend or acquaintance who has never tried puzzling before. Puzzles bring people together when times are tough so we really hope the campaign will spread some much-needed joy."
Gibsons are encouraging everyone to share their puzzling experiences on social media, using the hashtags #GibsonsKindnessMonth and #PuzzleItForward.