CBLOL 2023: FAKE NATTY! Rodrigo Góes analyzes the shape of the players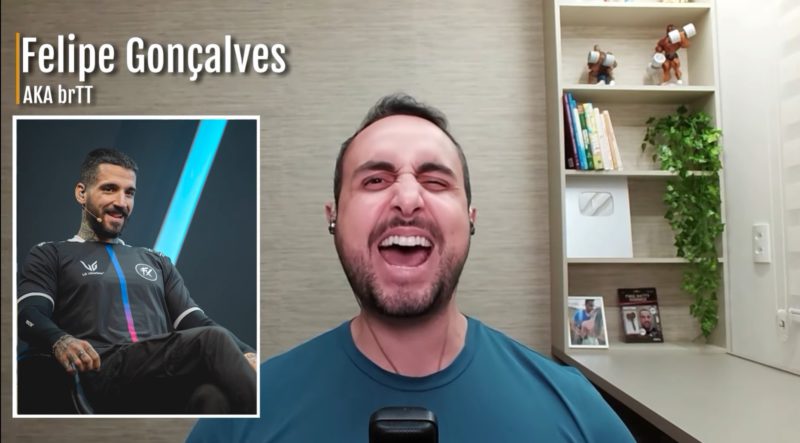 If you've been on the internet in the last few weeks, you've definitely seen the nutritionist Rodrigo Goes go viral and break the "maromba world" bubble with their video series "Fake Natty", in which he evaluates the physique of athletes and gives his verdict if they are "natural" or not.
Riot did not miss the opportunity to invite him to evaluate the players of the CBLOL 2023! Using all of his most classic catchphrases and mixing English with Portuguese, Rodrigo Goes assesses the physique of brTT, Netuno, Aoshi e Ranger. Check out:
In a short time, the video went viral in the community. Several comments congratulate Riot for the idea and even joke about the situation in Brazil: "We may be bad at the game, but we are the best at the content", wrote one of the users.
LOUD, first finalist of the CBLOL 2023 2nd split, still took advantage of the comments to tell paiN Gaming after Sunday's victory:
ANALISA A PAIN

— LOUD 🇧🇷 (@LOUDgg) August 20, 2023
Reaction of the players analyzed by Rodrigo Góes
Some of the analyzed players have even shared the Riot video. Check out:
A bro, Rodrigao found me Fake Natty bshdhfjfjfjsjdhjsjdjdhdjjdjwbsudhud what the heck, this bastard started accompanying me yesterday, that's because he hadn't seen today's photo 😂

— Felipe Gonçalves (@brttOficial) August 21, 2023
KKKKKKKKKK QUE ZIKAAAAAA https://t.co/alouGWVwGC

— Lucas Flores (@netunolol1) August 20, 2023
CBLOL 2023 2nd split is nearing the end
The CBLOL 2023 2nd split is in its final phase. This Sunday (20), LOUD again beat paiN Gaming and secured its spot in the grand final. RED, INTZ and paiN compete for the second spot in the big decision, scheduled for September 9th.
Follow the complete coverage of the CBLOL 2023 2nd split with the schedule of games, results, table and other information here on More Esports!
published in August 21, 2023edited a day ago
Source: https://maisesports.com.br/cblol-2023-fake-natty-rodrigo-goes-analisa-shape-dos-jogadores