Worlds 2023: "A shame", says Adam about defeat to Whales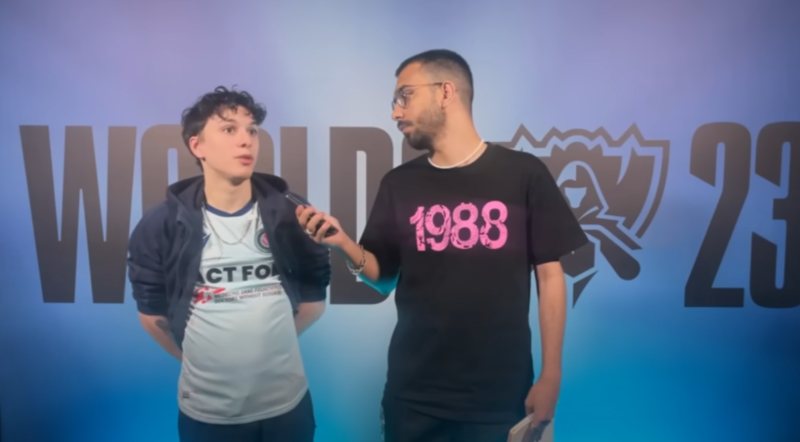 A Team BDS, to everyone's surprise, ended up losing to Team Whales in the championship debut. The Vietnamese, in fact, also got the better of the CFO and are in the decisive MD5 of the Entry Phase.
After the defeat, AdamBDS top laner, spoke about feeling ashamed for the defeat, possible confrontation against LOUD and reasons why they lost.
Is it an obligation for BDS to pass the stage?
I can't say it's an obligation now. Otherwise, it's a huge disappointment, at least for me. Even though I'm still happy to be here, I feel ashamed that I lost now.
Did Whales surprise BDS?
I don't think they surprised us, honestly, I just think we played really bad for some reason, but I don't know how to explain it, but the word is "very bad."
Adam did well against Darius, but didn't repeat Renekton's good performance
I mean I think it was a pretty tough draft, so to speak. Looking from the outside, it's not the best draft and it was really difficult for me to play my champion and we can see in the games that it was difficult to get kills, fight, etc. Furthermore, we were unable to play well as a team. Renekton is a champion that you need to play well as a team, but we couldn't, so it was very, very difficult.
Shame and frustration after defeat
I'm super frustrated, like honestly, it's like I'm going to explode. But yes, I said, I think it's a shame we didn't win today, so let's try to right the wrongs.

I think we were scared to win and we made it difficult to play the games, I don't know. It's kind of difficult to explain what happened because we don't play like that normally. So we need to find the reason why this happened and make sure it doesn't happen again next time.
Adam on Robo and LOUD
I'm better than Robo. If I face him, I will destroy him. Against LOUD? Yes, currently we trained with them once. That's why I'm going to destroy it. They are very good for the Entry Phase, above average.

So, I don't see why they wouldn't leave the play-ins. I mean, I think the matchup against PSG should be easy for them, right? But, we need to see. Maybe they won't win against PSG. I think they will lose to PSG, to be honest. Maybe if they have a good day, they can beat PSG. But honestly speaking, for now I can't see them beating them.
Upcoming Worlds 2023 games
The fourth day of Worlds 2023 will feature the following clashes:
Gigabyte Marines vs Rainbow7 – 4h
Team BDS vs Detonation FocusMe – 7h (aproximadamente)
When will LOUD play again?
A LOUD returns to the stage next Saturday (14) and faces the winner of Gigabyte Marines e Rainbow7. If they win, they will still have the opportunity to qualify for the Swiss Stage of the championship.
Follow complete coverage of Worlds 2023 with game calendar, schedules, table, statistics, format, teams and other information here on More Esports!
Source: https://maisesports.com.br/worlds-2023-uma-vergonha-diz-adam-sobre-derrota-pra-whales