The top 50 toys of all time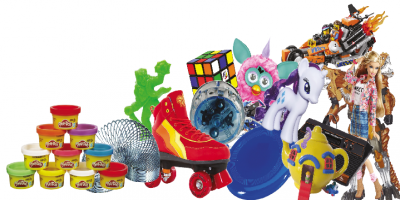 ToyNews asked the industry what they believed to be the greatest toys of all time, and the results are in. Billy Langsworthy runs down the 50 that made the list, and mourns a few that didn't. Prepare to feel old.
Greatest toys of all time surveys are nothing new, but we hope ours stands out due to who we've asked.

An array of toy experts led by Jonathan Ross is great, but we've gone to 94 toy execs from companies in the business of making, marketing and selling toys, right now.

Companies big and small got involved, and what we've got is a list of 50 toys spanning different decades, sectors and target audiences.

You'll find some usual suspects (no prizes for guessing what takes the number one spot) but as you peruse the list, prepare for a few surprises (one arguably qualifies more as footwear than as a toy).

Alas, with only 50 spots up for grabs, some nominated toys just missed out on a place by the skin of their plush teeth.

Wheeled toys that narrowly missed out on a podium place included the Cozy Coupe and recent hit Crazy Cart, while classics that fell outside of the 50 included Etchasketch, Evil Knievel toys, Bratz dolls and Beanie Babies.

Games including Buckaroo, Boggle, Pop Up Pirate and Rory's Story Cubes received nominations, but not enough to warrant a place in the list.

So enough build-up. Scroll below to out the 50 greatest toys of all time as voted for by the toy industry.

The further down the list you get, the more tied entries there are, proving this industry is responsible for creating a wealth of classics.

If your favourite isn't here, no angry emails to ToyNews please. Or at least copy in the following companies listed to the right. We're all to blame.
While we're keeping all individual's nominations anonymous, execs from the following companies submitted their votes to the survey:

Anki, Bandai, Be Inspired Consulting, Big Potato, Bigjigs, Cartamundi, Carte Blanche, Creating Unique Toys, Creative Toys Company, Famosa, Flying Gadgets, Fundamentally Children, Gibsons, Golden Bear, H Grossman, Hasbro, HTI, John Crane, Jumbo Games, Kids Industries, KidsBrandInsight, LeapFrog, Learning Resources, LEGO, Mattel, MV Sports, NECA, Orchard Toys, Oxford Games, Paul Lamond, Playtime PR, Plum, Professor Puzzle, Rainbow Designs, Ravensburger, Sir Torquil Norman, Skinny Sketcher, The Entertainer, The Toy Store, Tobar, Toy Essentials, ToyHub, Toyology, ToyTalk, ToyShop UK, Trends UK, Underground Toys, Vivid/Drumond Park, Wooky Entertainment Europe, Wow! Stuff, Yay Games.
The top 50 toys of all time, as voted for by the industry, is as follows: