Masters of the basics | How K'NEX and Basic Fun are 'breaking the STEM toy space wide open'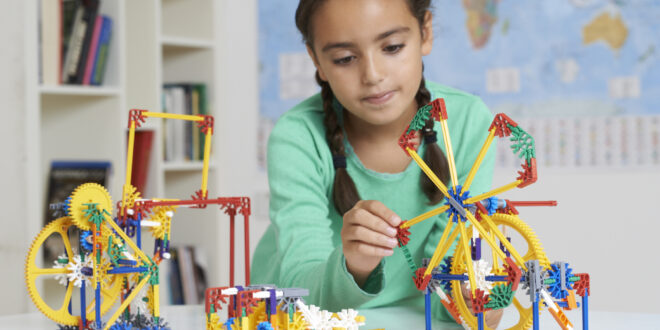 When K'NEX first launched on to the scene way back in 1992, the idea that it would one day become a core product within the children's STEM education space hadn't yet began to sprout. The K'NEX of the '90s was very much more focused on imaginative play and building without limitation. Very much a toy of the times.
Over the stretch of a generation, however, the brand has become more closely aligned with the educational principles of Science, Technology, Engineering, and Maths, little by design but moreover through a natural progression of the tropes of play at the the heart of the product itself.
Today, K'NEX boasts a range that spans all aspects of the STEAM curriculum, with products found in classrooms and homes across the world, while the brand has found itself playing an integral role in helping children and families navigate homeschooling through the concept of 'stealth learning'.
It's likely the reason K'NEX has just witnessed one of its best years to date, with sales surging across global markets. Here, ToyNews catches up with Basic Fun's general sales manager, Lynne Swatton-Reed to talk about the brands place within the STEM toy sector, and how Basic Fun is shaping the future of that increasingly popular market.
Hello Lynne, thank you for chatting with us this month. Perhaps we kick off with an overview of Basic Fun's history in the STEM space? How important is the market to you guys and how long have you been tapping into that sector?
We have deep roots in the STEM space – it's a hugely important market for us. Before the Basic Fun acquisition in 2018, the company was formally known as K'NEX and the brand remains a key pillar in the Basic Fun! Portfolio.
K'NEX was invented by Joel Glickman in 1992, and what began as a simple rod and connector building mechanism has grown to include different segments catering for all ages; from Kid K'NEX chunky oversized parts and pieces for ages three and upwards, to intricate Roller Coasters standing over six feet tall for ages 16 and above. But from early on K'NEX has always known that the key to helping kids learn is through fun, play and discovery. It was for this reason that the dedicated range of educational toys specifically aligned to the National Science, Technology, Engineering and Maths curriculum were introduced.
And what is it in particular, that the K'NEX brand brings to the STEM market?
STEAMagination™ ! It can be found in every K'NEX set. K'NEX prides itself on connecting Science, Technology, Engineering, Arts, and Maths (aka STEAM) with imagination, and with it building dreams become a fun-powered, 3D reality.
The brand never set out to specifically create educational toys; the intention was solely to show kids that the only limit to building was the size of their imagination. But here we are, with K'NEX soon to mark its 30th anniversary (next year) with a specific educational range that helps children to understand how things work.
We have sets that cover all aspects of the STEAM curriculum – from supporting children to produce 3D replicas of real world bridges and structures, to teaching them all about motion and forces… each set accompanied with a comprehensive Teacher Guides so the busy teacher can deliver practical lesson plans. There are, of course, many other features – such as easy to follow, colour coded instructions making it possible for students to work independently or in a group – all designed to support the curriculum while making learning fun.
"I think we are only at the cusp of seeing the real potential of the STEM toy space and we are doing everything we can to really break the space wide open."
What are you guys doing to put yourselves at the forefront of the STEM market?
Well, K'NEX is fantastic product, so it's really just a matter of keeping things fresh. Each season we introduce new and exciting lines that will continue to engage children with the brand. We're really good at making sure that the K'NEX range offers something for every age group and skill level, which ensures the breadth of the brand's appeal.
In addition to our specific educational sets, we recently introduced a specific STEM range directly targeted for home schooling to expand our reach outside of the classroom. Covering Gears, Levers & Pulleys, and even the science behind a roller coaster, our STEM range includes three experiments and worksheets for parents to engage with their children at home.
Ahead of the brand's 30th anniversary next year, we've got some exciting developments for the main K'NEX segment, which will help to ensure its continued success. After an amazingly successful year, due to home learning and how well our range lends itself to the teaching of STEAM principles, we saw the opportunity to bring back some old favourites, such as the best-selling Amazing 8 Roller Coaster in the new K'NEX Thrill Rides collection.
We're also introducing a new multi-build sub-segment, K'NEX Classics; each set comes with a colour-coded instruction manual to make various models. This new sub-category will complement the entry-point "Kid K'NEX" subcategory and the advanced "Architecture" segment.   
How has business been for the K'NEX brand over the past 12 months? What sort of growth and increased demand have you witnessed amid the pandemic, and what are you doing to sustain this engagement with the K'NEX brand among kids and families?
Sales of K'NEX have surged in the past year, with families using K'NEX to entertain and support home-schooling efforts amid all the lockdowns.
As the lockdowns have begun to ease, the company has been working hard to continue to drive home how families and schools can use K'NEX to underpin classroom-based STEAM learning
As a part of these ongoing efforts, when schools reopened in March, the Basic Fun! team launched a K'NEX initiative to connect with schools and promote the brand's application to fun learning at all stages of development. As part of that campaign, the company pledged £10,000 worth of K'NEX resources to schools across the UK, inviting parents, care givers and teachers to nominate their school to receive a K'NEX school pack. Each pack contained everything schools would require to get their pupils building bigger than the box in-class and during after school activities – all while building on early skill development.
The selected schools have already started receiving their assortment of K'Nex Education products and Kid K'Nex sets, as well as teaching packs, lesson plans, take-home information, and more.
How important do you think the STEM toy space has become to the toy industry today, given the impact of the pandemic on parents' and families 'rediscovered' values around play and learning through play?
What continued role do you think it will have to play in the shape the toy industry takes in the coming years?
Amid the lockdowns and the school closures, toys served multiple purposes: they were used to support home schooling efforts and they were also great for keeping the kids entertained. Whilst fun and imagination have always been at the heart of the K'NEX brand, a lot of other STEM ranges have had to evolve over the years to meet the increasing demand for fun learning toys. After all, this is how kids learn best – through fun, play and discovery. And if lockdown hasn't been great for much else, we do feel that more families and schools have really embraced the use of toys to support education in this time. So in response to how important we feel the STEM toy space has become to the toy industry today – the answer is that they play a fundamental role.
I think we are only at the cusp of seeing the real potential of the STEM toy space and we are doing everything we can to really break he space wide open. Parents are wanting to play an ever more active role in their child's education and this is really impacting upon the choices they make when purchasing toys.
With parents more engaged now than ever before with how their children's toys can support their development and learning, toy companies will need to react to this and deliver what the market demands.
"Our portfolio is stronger than ever this year, with special anniversary years (K'NEX's 30th anniversary and Care Bears' 40th birthday) to mark, new launches within our existing brands, and brand new IPs to bring to the market."
Why should retailers be excited to work with the Basic Fun team this year and beyond?
Our portfolio is stronger than ever this year, with special anniversary years (K'NEX's 30th anniversary and Care Bears' 40th birthday) to mark, new launches within our existing brands, and brand new IPs to bring to the market. And, whilst many consumers may not yet have heard of Basic Fun!, we have so many strong brands that consumers love: Care Bears, Tonka, Cutetitos, KNEX, Lite Brite, Fisher Price Classic, Monopoly Surprise and so many more.
And to say we're excited about the September launch of a brilliant new range called Bitty Boomers is an understatement! Bitty Boomers are the miniature, wireless Bluetooth speakers that will change the way you hear music through pop culture. Bitty Boomers are shaped like kids' and collectors' favourite characters. Already hugely successful in the US, we will be launching with the top six best-sellers this September.
Besides our incredible portfolio, retailers will also get to work with our small, close-knit, super effective team. We are all so passionate about what we do, and we pride ourselves on the personal touch that we're able to offer our retail partners.
For us, the job is all about the people and with our collective 60 years' experience in the toy industry, we feel that the best things really do come in small packages. 
How are you planning to support your retail partners this year?
To make sure that awareness and demand is there for the full brand portfolio, we have extensive marketing and PR plans in place throughout the year. We'll have TV support on Cutetitos, Care Bears and Lite Brite but we are also moving to where generation Alpha are – and that's online/digital. That's why we're investing into heavyweight YouTube brand advertising, as well as a host of other social and digital activity to ensure huge reach for Tonka, K'NEX, Bitty Boomers, Monopoly Surprise, and our other brilliant brands.
For indies specifically, we've got some really strong in-store branding options, including a selection of POS displays to present our ranges at their best. Plus, we're strategically partnering with some of our retailer partners, offering exclusive lines to create a point of difference, while also complimenting the core ranges.
Thank you Lynne, before you go, is there anything you'd like to shout about?
Just that we are so grateful for our retail partners. We could not do this without them. So, if you already work with us – thank you! We look forward to working together over the coming years. If we don't yet work with you, then get in touch! We're a friendly team and we're passionate about toys.