LoL: "Quick Game" mode without selection screen is being tested on PBE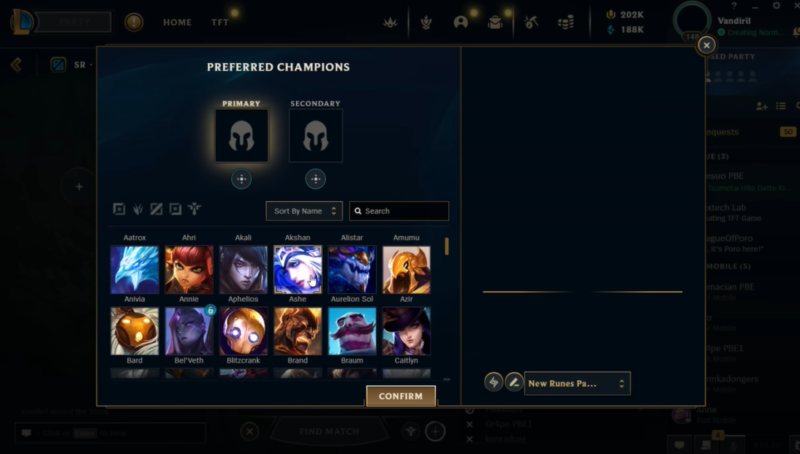 For some time, the Riot Games announced that it planned to scrap one of the game's oldest modes: the Choose Blind. By not keeping up with the evolution of the game, the developers plan something for the place: mode "Fast game".
This information is not new or leaked. In March of this year, Riot already said that it was working on Quick Mode, and now it is being tested for some on the PBE (test server).
How is the new Quick Play mode
The person responsible for revealing some details of the new Quick Game mode was Vandiril, famous Youtuber of League of Legends and popular for showing various game bugs. He recently found the new feature on the PBE and recorded a video to show his fans.
The idea of ​​Quick Mode is the same as Blind Pick: to provide more casual matches. However, the time it takes for the match to start is faster now, as players can choose their lanes and which champion they want to play in them before joining the matchmaking queue.
It will also be possible to select summoner runes and spells. When you find a match, just accept that you will be sent straight to the loading screen, eliminating all the time players took to choose their champions.
When is the new Quick Play mode coming to LoL?
Riot hasn't yet given a date for Quickplay to come to LoL, and it's likely to take a few updates yet. Vandiril pointed out that there are several bugs in the mode, such as, for example, players not being able to enter the game with runes.
Furthermore, even with the PBE being the test server, these changes are not available to the general public., which indicates that it is in an alpha phase of development. That is, even if you have an account on the PBE, it is not guaranteed that you will be able to test it now.
We're hoping the new game mode will actually be ported to the PBE after the 13.17 patch update, but since there hasn't been any announcement from Riot yet, it's also possible that it's just a pre-season change.
Below, you can see Vandiril's video about the new Quick Play mode in LoL:
published in August 23, 2023edited 3 days ago
Source: https://maisesports.com.br/lol-modo-jogo-rapido-sem-tela-de-selecao-esta-em-testes-no-pbe