CS2: Valve launches commemorative medal at the end of CS:GO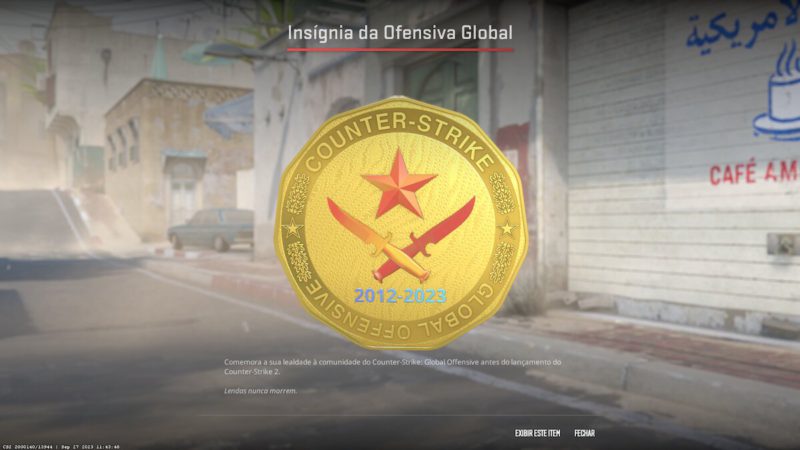 CS2 was officially launched this Wednesday (27) and is available for free for anyone who wants to enjoy the game on Steam. The community reacted to the release of the new version.
Furthermore, CS:GO, the game's old form, will also be honored within CS2 in the form of a medal. A Global Offensive Badge is given to players as a reward for "loyalty to the Counter-Strike: Global Offensive community before the release of CS2".
A curiosity about the cosmetic is that each side of the coin mentions counter-terrorists and also terrorists, which are historically the two playable sides of Counter Strike.
Here it is. https://t.co/zgL0ZwEqQQ pic.twitter.com/HKDRQsZfu6

— ThourCS (@ThourCS) September 27, 2023
CS2 is the fifth version of Counter Strike
The game that was released in 2000 had several versions such as: Counter Strike: Condition Zero, Counter-Strike: Source and, of course, the beloved CS:GO. Some specific versions for the Asian market also had their place in the legacy, such as Counter-Strike Neo, Counter-Strike Online e Counter-Strike Online 2.
Now, fans can finally experience the next chapter in this journey to see how the new title will dominate the competitive scene and captivate FPS enthusiasts. The wait is over, and CS2 is ready.
published in September 27, 2023
Source: https://maisesports.com.br/cs2-valve-lanca-medalha-comemorativa-ao-fim-do-csgo